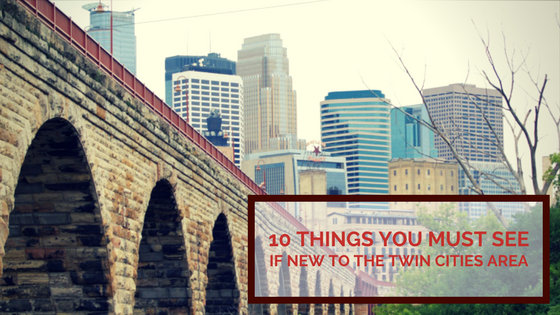 It can be intimidating moving to a new area without really knowing anyone or the surroundings. So what does on do, then? Well, the best thing to do is to get out and submerge yourself in the area. It's the best way to see what the new area has to offer, and you'll most likely meet some nice and friendly people while you're out. It can be hard to get out of your comfort zone and explore, but once you do you'll be feeling more confident about the area and the move. Here are some must see attractions for the Minneapolis / St Paul region:
1. Mall of America
People come from all over to visit the Mall of America, which is way more than just a mall, it actually has a roller coaster INSIDE the mall. Now that this hot tourist spot is practically in your back yard better check it out so you know what all the hype is about.
2. Stone Arch Bridge
This is a MUST see for anyone, but especially someone who is interested in architecture. This bridge is a 2,100 foot granite and limestone bridge. It was built in 1883, and is the only stone arch bridge to have ever traversed the Mississippi.
3. Chain of Lakes
If you really want to understand the city then this is an absolute must since, after all, we are the land of 10,000 lakes! There are 5 main bodies of water that encompass the Chain of Lakes and each byway district has something special to offer.
4. Midtown Global Market
Markets are always a great place to meet new people and get some goodies. There are over 50 vendors that offer food and trinkets. It's located south of downtown on East Lake Street.
5. Minnehaha Park
If fresh air is on the menu head on over to this 193 acre park which offers a slower pace than the city life. It's most famous for the 53 foot Minnehaha Falls as well as the poem, "The Song of Hiawatha" by Henry Wadsworth Longfellow.
6. Guthrie Theater
This theatre is one of the Nation's most renowned theatres. "Hamlet" was the theatres opening production in 1963. This theatre has 3 individual stages, a full-service restaurant, two eateries, and a cocktail lounge.
7. Minneapolis Institute of Art
If Art if your fancy then this is a must! This institute houses over 83,000 works of art that span more than 5,000 years! The institute is very family friendly so don't hesitate to bring the kiddos along.

8. Mill City Museum
Touring the Mill City Museum will give you an insight view of Minneapolis' industrious past. It's located on the west bank of the Mississippi River and housed in what was the largest flour mill in the world. There are several hand on exhibits that will have everyone involved.
9. Walker Art Center
Whether your into Art or not you've got to check out the Walker Art Museum. One of the Walker's biggest attractions is the adjacent Minneapolis Sculpture Garden It's the largest urban sculpture garden in the country, and home to the renowned Spoonbridge and Cherry (the piece has become somewhat of an iconic symbol for Minneapolis). For a spectacular view of the city, take a stroll across the nearby Irene Hixon Whitney Footbridge.
10. Minnesota Zoo
The Zoo is located about 30 minutes south of downtown Minneapolis in Apple Valley. It is a whopping 485 acre complex and houses more than 4,700 animals.