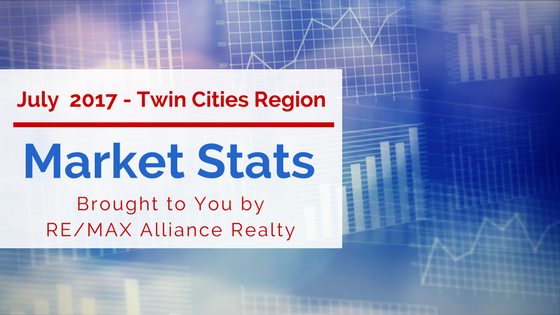 Wouldn't it be nice to know all about the market before making the decision to either sell or purchase a home? Well, here at RE/MAX Alliance Realty we do that just that! We take all the guess work out, and provide raw stats for each previous month to assure our clients know exactly what is going on in the market and what it means for them.
Summer drawing to an end, time to get ready for cool weather and colorful scenery. Please see below for the market stats in the Twin Cities region for the month of July:
• Median Sales Price decreased 5.9% to $254,000 – There was a slight decrease of $ 5,000 in the median sales price since last month. Don't let this scare you, though… these stats are based on the median. It is still very much a seller's market.
• Days on Market decreased 16.7% to 45 – Down 2 more days since last moth! Remember, there are a lot of families that take vacations in July with the Holiday, and having kids return to school during August. So, this is awesome to see that properties are still moving fast.
• Percent of Original List Price Received increased0.8% to 99.2% – These numbers have stayed relatively the same as last month, which is great, because asking price is being achieved more often than not.
• Months' Supply of Homes For Sale decreased 19.4% to 2.5 – This has stayed the same since last month. This number is telling us that the inventory is still moving, and its moving fast. The market is hot right now!