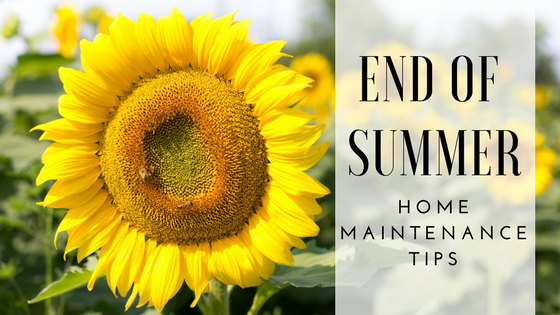 Summer is drawing to an end and pretty soon we'll be surround by beautiful fall colors a brisk breeze. Not only do we have to get ourselves ready for the cooler weather, but we also need to make sure our home is ready. Before summer ends there is some home maintenance that you'll want to complete in order to avoid costly repairs from not preparing properly.
Indoor Maintenance
Check to make sure to check how much insulation you have as the highest concentration should be in the attic. Also check to see if any light is coming through the roof. Pay extra close attention to areas such as that have flashings, and sealants/caulks around chimneys or pipes.
As the temperature starts to drop pests are going to migrate to warmers areas….like your home! Consider have a professional come out to spray the home to keep the pests outside where they belong.
Heater/Furnace Inspection
It's a great idea to have your heating system inspected before they are needed. Experts say that as much as 75 percent of the calls they receive about homeowners without heat are a result of not having the furnace serviced and cleaned. This will also help keep heating costs down and keep the air healthy.
Summer months provide a lot of humidity which is a breeding ground for mold. Be sure to check all areas of the home for mold especially around leaky pipes, basements, or any area that doesn't have good ventilation.
Outdoor Maintenance
Look for damaged shingles that may be cracked, buckling, or missing. Look to make sure there no holes from fallen branches. If unsure of what to look for it's always better to bring in a professional.
Siding takes a beating all year round so this is inspection is a must! Make sure that there are no pieces that are buckling, missing, or warped.
Be sure to clear out any gutters or downspouts as if they are clogged it can cause your roof to leak and lead to other problems.
Pick up any debris that has fallen in the yard over the summer as it can become a hazard during with winter months. Also, this may be a good type to add protectant to the deck.
Here and there
Smoke & Carbon Monoxide Detectors
Ensure both smoke and carbon monoxide detectors have fresh batteries. It's smart to test them, also. Both are especially important once your furnace is in use.
The humidity during the summer can cause a buildup of mold and mildew in your air filter. If you have a disposable filter, then throw it away and replace it with a fresh one, preferably one that is hypoallergenic. If you can clean it, then wash it thoroughly and let it dry completely before putting it back. This will keep your air cleaner, and everyone in the house healthier.