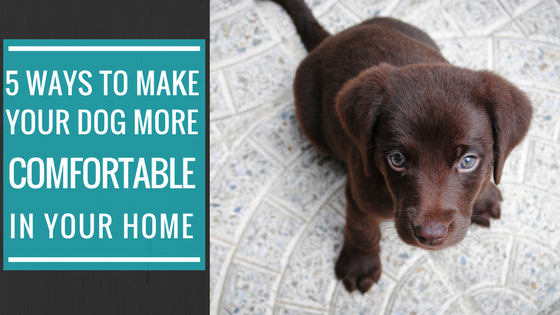 Pets are more than a cute furry face, they have become part of the family. There are many important things to remember when caring for our fur babies, but one that some may not even think about is…The Home. We are constantly finding ways to make our homes more comfortable for ourselves, but never stop to think about how we can make it more comfortable for our pets. We have some great tips to help you do just that.
1. Better feeding area
Dogs like to eat just like us, but often have a less than ideal dining space. Most put the food and water bowl on the floor somewhere and go about their day. Try getting a nice bowl that looks good in the space and consider getting a raised bowl that's better for your pet so they aren't so hunched over when eating. They'll thank you with lots of slobbery kisses for it!
2. Safer modes of travel
Dogs age just like we do, but don't get all the extra help aides like we do. If you have a pet that has bad hips/back, a senior, or just a pet that can't get around very well at consider installing a ramp for them to use. If your pet sleeps with you provide them a way where they can get on and off the high bed without having to jump.
3. Lots of green
Pets need lots of exercise and time outdoors. Think about the yard space- does it have plats that may be poisonous, is there enough room, is there a place to escape the sun. These are all great questions to ask the next time you're in the backyard. Your pet will love you even more if they have a comfortable outdoor space just for them.
4. Blend it in
Having a pet doesn't have to make your home décor suffer! Consider getting items that go along with your décor. You could add an island in the kitchen with the bottom being the crate, or lay down a rug design for pets that goes along with a theme in your home.
5. Play Time
Keep life interesting for your pet. Yes, they do love to take long naps and sun bathe, but they also love to play. Take a couple minutes each day just to play with your pet. Give them some undivided attention by playing fetch or tug of war. Keep toys around so when they are in the mood to play they can do so without having to you entertain them.